Scout Dolls
Click on each of the photos for a larger image.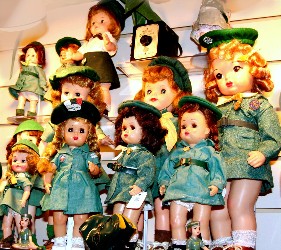 These Girl Scout dolls include Terri Lee, Tiny Terri Lee and Effanbee dolls. They are all official Girl Scouts. Notice how the fabric changed during the years.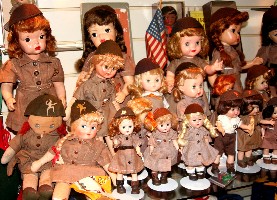 Brownie Scouts come in many shapes and sizes. These dolls date from the 1940's to the 1960's. They are made by several different doll companies including Terri Lee, Effanbee, Ginny, and Georgene.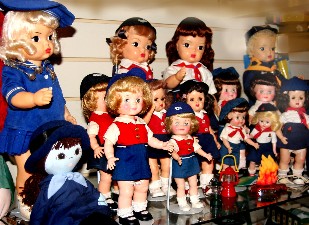 Here are some Bluebird and Campfire Girls. The Terri Lee doll on the left is dressed at a Mariner Girl Scout. All the dolls are official scouts. They are Terri Lee, Tiny Terri Lee, and Effanbee dolls.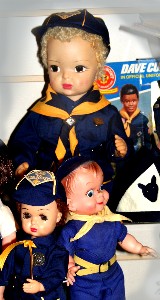 I have to include a few boys even though these costumes are not factory made. Here are Jerri Lee and Tiny Jerri Lee dressed as Cub Scouts.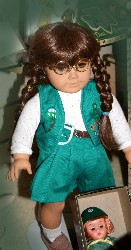 In order to keep up with the modern dolls I included an American Girl Doll, Molly showing off her Girl Scout outfit.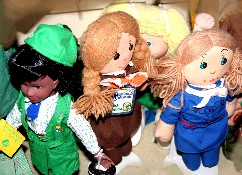 At the left (in the photo to the right) an Avon Girl Scout is selling cookies. Two Canadian Girl Guides, a Brownie and a Girl Scout are playing as a Cabbage Patch Girl Scout peeks out from behind.
If you have questions, please email me.
Back to top